Sides in rancorous James "Whitey" Bulger trial make final pitches
Accused of 19 killings during a 20-year "reign of terror"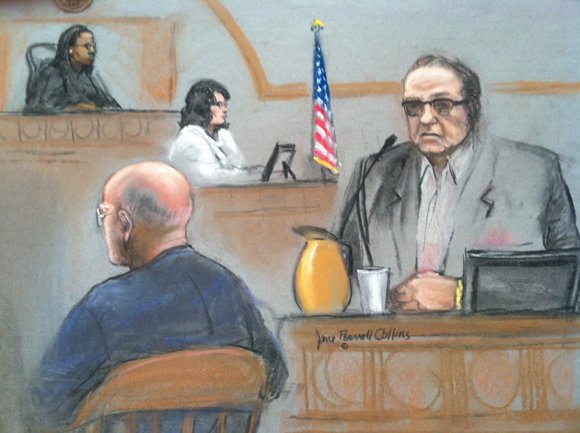 BOSTON, Mass. — James "Whitey" Bulger was one of the most "vicious, violent and calculating criminals to ever walk the streets of Boston," prosecuting attorney Fred Wyshak told the jury Monday as closing arguments began after 35 days of testimony in Bulger's trial.
Bulger is accused of 19 killings and 13 counts of extortion and money laundering during a 20-year "reign of terror" that defined South Boston from the early '70s through 1995, when Bulger fled Boston.
Wyshak said Bulger and his partner "plotted, they schemed, they robbed they murdered together, they were also informants together."
Prosecutors contend Bulger was an FBI informant who used protection from rogue agents as he continued his life of crime. Defense attorneys have argued Bulger was not an informant, and that FBI bungling was key in the case.
"If there is one thing you heard during this trial, it's how secretive that relationship is," Wyshak said to the jury Monday. "The last thing a criminal wants ... is for people to know he's an informant."
But he also said that it "doesn't matter whether or not Bulger is an FBI informant when he put the gun to the head of Arthur Barrett and pulled the trigger." Arthur "Bucky" Barrett died after being shot in the head in 1983.
"Its not about whether or not the FBI in Boston was a mess," he said. "... It's about whether or not the defendant is guilty of crimes charged in the indictment."
He added, "When he puts a gun in the stomach of Mr. (Michael) Solimando and tells him you own me $400,000, it doesn't matter if he is an informant or not, it doesn't matter whether or not the FBI is leaking information to him."
The defense rested its case Friday with no rebuttal from the government.
During their weeklong defense, Bulger's lawyers seemed to have three goals:
One: Try to cast doubt on who killed two of the 19 victims, both of them women.
Two: Shift the blame onto the FBI, specifically agents who either did nothing or did too little to prevent several killings.
Three: Convince the jury that Bulger was not an FBI informant, a notion prosecutors called "ludicrous" in light of his FBI informant card and a 700-page file loaded with "tips" on rival gang members.
Prosecution defends plea deals
Defense attorneys also attacked the credibility of gangsters who became star witnesses for the prosecution, testifying under immunity after they learned Bulger was an informant for the FBI for nearly two decades.
Wyshak on Monday defended the government's unsavory plea deals with those gangsters, three of whom together implicated Bulger in the 19 murders and various acts of extortion.
"The government didn't choose them, Bulger chose them," Wyshak said.
"The only thing worse than making a deal with (former hit man) John Martorano would have been not making a deal with John Martorano." Wyshak said the government "held its nose and made the deal."
The prosecutor began detailing each of 19 murders Bulger is accused of, showing photos of each of the victims and their crime scenes.