U.S. issues global travel alert, to close embassies due to al Qaeda threat
Sources say al Qaeda in final planning stages of unspecified plot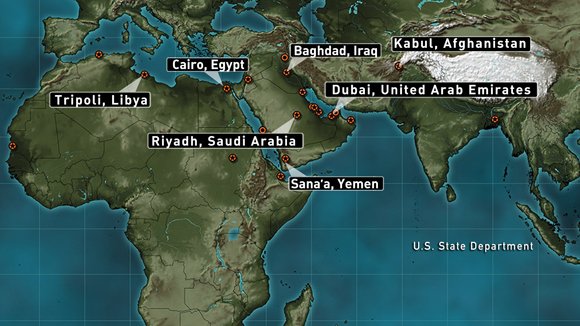 The U.S. Embassy in Israel also will be closed as normal on Sunday.
President Barack Obama was briefed on the closures, a U.S. official told CNN on condition of not being identified.
House Democratic leader Nancy Pelosi told reporters that House leadership also had been briefed on the situation, and that the travel alert and embassy closings provided "some understanding of the seriousness of the threat."
Rep. Ed Royce told CNN's "New Day" on Friday that al Qaeda was linked to a terror threat that prompted the embassy closings.
"It's my understanding that it is al Qaeda-linked, all right, and the threat emanates in the Middle East and in Central Asia," said Royce, a California Republican who chairs the House Foreign Affairs Committee.
Obama met with Yemeni President Abdo Rabu Mansour Hadi at the White House on Thursday. Yemen has been cracking down on al Qaeda.
Biden briefed legislators
Earlier this week, Vice President Joe Biden and senior State Department officials went to Congress to discuss embassy security after last year's terrorist attack on a U.S. diplomatic compound in Benghazi, Libya, that killed four Americans, including Ambassador Christopher Stevens.
Biden also briefed congressional leadership, key committee chairs and ranking members about the latest threat concerns, a source who attended the meeting said.
Another official said the recent intelligence might not have warranted such a response before the Benghazi attack, which created a political firestorm for the Obama administration.
On Thursday, State Department spokeswoman Marie Harf said the agency was taking the steps at diplomatic sites out of an abundance of caution.
CNN's Barbara Starr, Chris Lawrence, Jill Dougherty, Dana Bash, Evan Perez, Gloria Borger, Jim Acosta and Elise Labott contributed to this report, which was written by Tom Cohen in Washington.
Chris Lawrence, Barbara Starr and Tom Cohen | CNN