Trekking through mud, rivers and jungle to provide free medical care
Dr. Georges Bwelle is bringing free health care to rural villages in Cameroon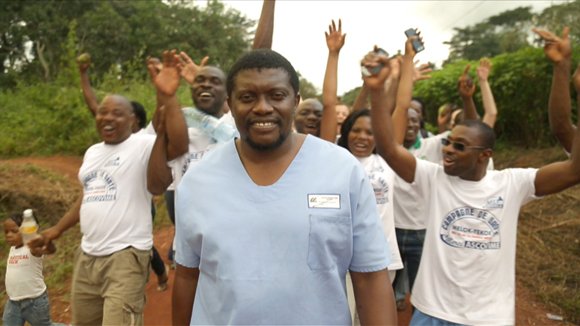 In the evenings, the team will do simple surgeries with local anesthesia. Operations are usually done in a schoolhouse, town hall or home; after the procedure, patients get up and walk to the recovery area to make way for the next person.
With the group's generator lighting the operating room and sanitizing equipment, Bwelle and his volunteers work into the early hours of Sunday morning. It's a backbreaking pace, but village musicians usually help keep the team motivated.
"They are beating drums all the night to (keep us) awake and continue our work," Bwelle said.
On Sunday, the team heads back to the city, tired but proud of their work. The group — a mix of Cameroonian doctors and foreign medical students — has performed 700 free surgeries in the past year, and they know that their help can make a world of difference to those they help.
One man explained that the free hernia surgery he'd received will allow him to work again.
"This will change my future with my family," the man said.
In addition to holding these weekend clinics and working as a hospital surgeon, Bwelle also works nights at private medical clinics around Yaounde. It's this second job, he said, that funds about 60% of his nonprofit; the rest is covered by private donations.
"I'm not sure when he sleeps," said Katie O'Malley, a second-year medical student from Drexel University in Philadelphia and volunteer with Bwelle's group. "He is always either at the hospital or trying to make money for the organization so he can go on these campaigns."
For medical and nursing students such as O'Malley, who come from the United States and Europe to join Bwelle on his missions, it's a hands-on opportunity they'd never get at home.
"We've been able to scrub in on surgeries where we help blot blood away or hold tools for Dr. Bwelle," O'Malley said. "That's not something you'd ever get to do in America as a second-year medical student."
The student volunteers usually pay their own way to Cameroon, often arriving with donated medical supplies. But once they arrive in Yaounde, their board, transportation and instruction are covered by Bwelle.
"He's a hero, without a doubt," O'Malley said. "He gives his life to this organization, and his desire to help the Cameroon people is everlasting."
For Bwelle, the near-constant workload isn't a hardship. Helping others live happier lives, fulfilling a promise he made to his father, is something that brings him great joy.
"I am so happy when I am doing this work," Bwelle said. "And I think about my father. I hope he sees what I am doing.
"To make people laugh, to reduce the pain, that's why I'm doing this."
Want to get involved? Check out the ASCOVIME website and see how to help.
Meghan Dunn and Danielle Berger | CNN