Robert Mugabe: African liberator, former honorary knight, aging ruler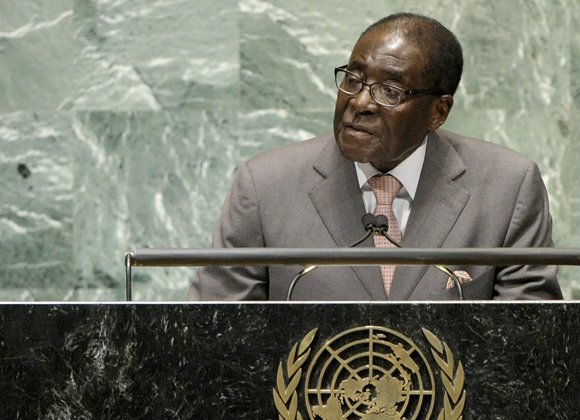 "Mugabe ... is one of Africa's bad boys and wears his medal with pride," Johnson said in a past interview. "He who stands up and shouts the most is usually revered."
Few African leaders have as willfully and spitefully taunted the West, a major source of donor aid, as Mugabe has.
His anti-West tirades especially target Britain and the United States, which he accuses of colonialism.
"Keep your pink nose out of our affairs, please," he told the United States last week in response to criticism of his push for elections without key reforms.
No longer a breadbasket
In recent years, political rivals have accused him of turning a nation once known as the breadbasket of southern Africa into one racked by hunger and once sky-high inflation.
But Mugabe has clung to power at all costs.
In 2008, his party lost to his closest rival, Morgan Tsvangirai, who did not get enough votes to avoid a runoff. Opposition party supporters were beaten, tortured and killed, rights groups said, and Tsvangirai withdrew from the runoff in protest. The post-election violence left about 200 people dead and thousands injured.
Regional leaders dismissed that election as a sham and pressured the two to form a power-sharing agreement, which led to a tense coalition in 2009. Mugabe's main opponent became his prime minister, and the squabbles continued.
"I've got my fair share of criticisms and also dealt back rights and lefts and uppercuts," Mugabe has said. "But that's the game. Although we boxed each other, with Tsvangirai, it's not as hostile as before. It's all over now. We can now shake hands."
Former teacher
Born in February 1924 in then-Rhodesia to a carpenter father, Mugabe spent his early career as a teacher.
His first wife died in 1992, and he married his current wife, Grace Marufu, four years later.
He has two sons and one daughter with Marufu.
Mugabe has university degrees in education, economics, administration and law from the University of London.
Honorary knighthood, gone
In 2002, the European Union imposed sanctions on Mugabe and his allies, including travel bans, accusing Zimbabwe of human rights violations.
in 2008, the United Kingdom stripped Mugabe of an honorary knighthood awarded by Queen Elizabeth II. Later that year, the nation plunged into post-election violence.
The European Union eased the sanctions after a successful referendum on a new constitution in March of this year but called for credible elections.
Inflation
As he has continued to lash out at the West, donors have distanced themselves, sending Zimbabwe on a downward economic spiral.
By 2008, the nation's inflation had soared to 200 million percent. Food shelves were empty, and a loaf of bread cost about 300 billion Zimbabwean dollars.
International isolation continued to hit the economy as corruption remained rife.
Despite widespread poverty, the nation has made major strides in its economy in recent years, experts say.
Since 2010, the nation's gross domestic product "has grown by an average of over 7% and inflation has remained in the low single digits," the International Monetary Fund said last month. "Government revenues have more than doubled from 16% of GDP in 2009 to an estimated 36% of GDP in 2012, allowing the restoration of basic public services."
Medical trips
Illness has come with Mugabe's advancing age.
He has reportedly made regular trips to Singapore for medical treatment amid growing concerns about his health. In 2011, public documents showed he amassed a staggering $29 million in travel expenses. WikiLeaks released cables detailing party members' reports that he is suffering from cancer, which he has denied.
Despite the reports, a Freedom House survey last year showed that Mugabe's party was regaining its popularity.
CNN's Paul Armstrong contributed to this report.
Faith Karimi | CNN