Ninth woman says San Diego mayor sexually harassed her
Filner has refused to resign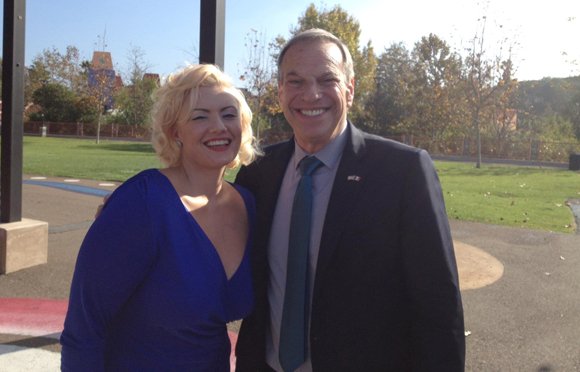 Filner allegedly looked her up and down, stared into her eyes and said, "Your eyes have bewitched me," Rose said.
Filner allegedly then made a remark along the lines of, according to Rose's paraphrasing, "You'll have to excuse me for what's about to happen. It's your fault."
Filner then moved to her side of the booth, sat beside her, pinned her to the wall, and put his arm around her, Rose alleged.
Rose avoided the advances, and Filner was suddenly interrupted by his ringing cell phone, Rose said.
Filner got up from the booth, gathered his materials and left the restaurant, Rose said.
Rose spoke of the incident to her closest friends and didn't pursue the matter because she feared her nonprofit might somehow suffer, she told CNN.
But when Rose said that when she heard of similar accusations against Filner in recent weeks, she called a victim's hotline at the sheriff's department and spoke with a captain.
Another woman, political consultant Laura Fink, has accused the mayor of patting what she described as her "posterior" at a fundraising event in 2005. At the time, Fink was working as the deputy manager of Filner's congressional campaign. Fink told CNN that she thinks Filner should resign.
Sharon Bernie-Cloward, president of the San Diego Port Tenants Association, claims that when Filner was running for mayor in 2012, he approached her at a political event, according to San Diego's public television station.
"He touched me, actually groped me on my backside inappropriately," Bernie-Cloward told KPBS. "I was left there startled and fearful. In fact, I actually had someone walk me to my car that night."
Patti Roscoe, a prominent businesswoman in San Diego's tourism and hospitality industry, told KPBS that on numerous occasions, Filner "put in me what I guess now is the famous headlock."
"I felt fearful, even as well as I knew him, because it was an invasion into my space," Roscoe told the station. "And he would come in and try to kiss me on the lips and I'd have to squirm to get away. And just as recently as a few months ago this happened. I turned and he just slobbered down my chin.
"And I was so violated and so offended. It's just such a terrible invasion."
Veronica "Ronne" Froman, a retired Navy rear admiral and San Diego's former chief operating officer, told KPBS said that she and Filner, then a congressman, met a few years ago at his office after everyone had left.
"He stopped me and he got very close to me. And he ran his finger up my cheek like this and he whispered to me, 'Do you have a man in your life?' " Froman said. "I jumped back. I was very, very startled. And I said, 'Yes, I have a man in my life.'
"And he said, 'who?' And I said, 'Linden Blue.' He says, 'Oh, of the Blues Brothers?' And he says, 'Maybe we can get together sometime and have lunch and he can support me for mayor.'
"I was really rattled. I got in the car with the two guys I was working with and I told them never to leave me alone in a room with Bob Filner again."
Joyce Gattas, a dean at San Diego State University, told KPBS that she had several "interactions" with Filner "where he's held me too tight, a kiss on the cheek which is inappropriate, hands on the knee that last too long."
The eighth woman to accuse the mayor was Lisa Curtin, who is director of government and military education at San Diego City College, according to KPBS. She said that he grabbed her hand, fingered her wedding ring and asked if it was real. She also said he tried to kiss her; she moved her head and she felt his tongue on her cheek.
Ashley Fantz and Chuck Johnston | CNN