Ninth woman says San Diego mayor sexually harassed her
Filner has refused to resign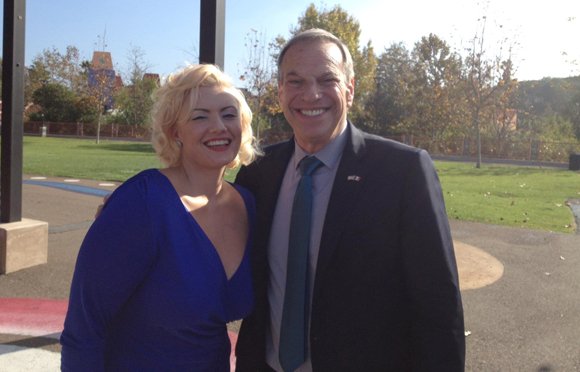 SAN DIEGO, Calif. — A ninth woman is accusing San Diego Mayor Bob Filner of sexual harassment.
Emily Gilbert told CNN Friday that she was hired to sing at a fundraising event in December. Afterward, she said, the mayor grabbed her, slid his hand down the small of her back and gave her "tush a pat."
She said Filner had pulled her away and told his female assistant to give him and Gilbert a moment alone.
He then asked her: "Oh, Marilyn, can I get your card?" she recalled to CNN. Gilbert bears a passing resemblance to Marilyn Monroe, but she hastened to add she was not performing as a Monroe impersonator.
That's when he began touching her, she said, and he ended by saying, "I hope to see you again, Marilyn."
Gilbert told CNN that her husband was upset but felt powerless because Filner was the mayor.
CNN has made multiple efforts to contact Filner and his representatives on the latest allegations but has not gotten a response.
The 70-year-old, dogged for weeks by sexual harassment allegations, served five terms in Congress before being elected mayor in 2012.
Earlier this summer, when the allegations first began, Filner acknowledged "I need help," and added, "I'm clearly doing something wrong."
"I am embarrassed to admit that I have failed to fully respect the women who work for me and with me, and that at times I have intimidated them. It's a good thing that behavior that would have been tolerated in the past is being called out in this generation for what it is: inappropriate and wrong," he said in a statement issued July 11.
But Filner has also said he believes he will be vindicated by "a full presentation of the facts" and he will not resign.
In late July, Filner said he planned to enter "a behavior counseling clinic" for two weeks of intensive therapy starting August 5. In a statement given at City Hall, he apologized "to the women I have offended."
"The behavior I have engaged in over many years is wrong. My failure to respect women and the intimidating conduct I engaged in at times is inexcusable," he said.
Before Gilbert, Filner's former spokeswoman, Irene McCormack Jackson, and seven other women accused Filner of sexual harassment. Jackson has filed a sexual harassment suit against Filner.
He asked the city to pay for his legal fees; the city council voted against that.
Jackson said Filner subjected her and other women to "crude and disgusting" comments and inappropriate touching. She said she resigned as Filner's communications director in June after deciding the mayor would not change his behavior.
None of the other women leveling claims of sexual harassment against Filner came forward until Jackson filed her suit in state court.
One of the women is nonprofit group founder who said she was lobbying Filner for her organization, which works with military and other families hurt by domestic violence. Morgan Rose met with Filner in 2009 at a Marie Callender's Restaurant & Bakery across the street from Filner's congressional office in Chula Vista, California, she told CNN.