MOAH takes flight with four new exhibits
Opening reception this Saturday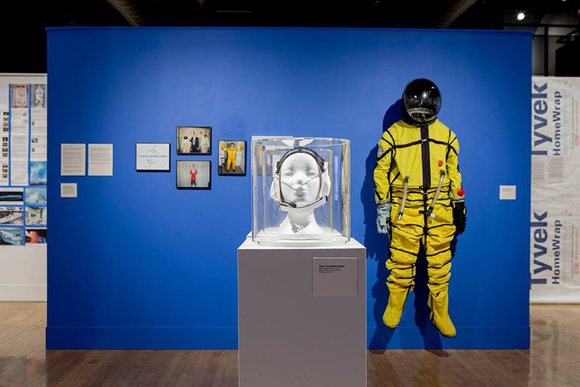 MOAH will also display "Dog Fight," an installation featuring Los Angeles-based artist Jorg Dubin's sculptures from his Corporate Jet series. Constructed from sheet metal, Dubin captures the form and structure of military aircraft and finishes the surfaces with corporate logos from the high-end fashion and automobile industries.
Suspended in the lobby atrium in a configuration resembling an aerial dog fight, the installation comes alive from multiple vantage points as viewers walk through the first and second floors of the museum. The Corporate Jet series is a playful and ironic look at the influence, or perhaps the merging of power, across corporate America, globalization, politics and the innate desire for the good life, all of which are protected by the military.
"When I'm Sixty-Four" located in the second floor south gallery rounds out MOAH's exhibit programming. "When I'm Sixty-Four" celebrates the senior population through paintings, drawings and photography. In California alone, data suggests that the population of those over the age of 65 will increase to 6.5 million by 2020. All aspects of life will be impacted from politics, public services, the economy, and family structures to healthcare.
The artists examine the role this group will play in culture and whether or not their perspective, acceptance, and politics will mature along with them. The artists explore the realities of aging, often through extremely private investigations into their own lives and the lives of others.
The museum is located at 665 W. Lancaster Blvd., Lancaster. Additional information is available on MOAH's website, www.lancastermoah.org.