Judge sentences Cleveland kidnapper Ariel Castro to life, plus 1,000 years
Insists he's not a "violent sexual predator"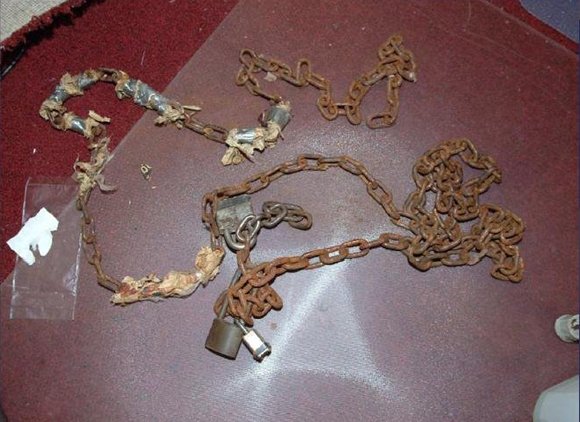 Castro even claimed that no one cared enough about Knight to search for her after she disappeared.
"I'm not a monster. I'm just sick. I have an addiction, just like an alcoholic has an addiction," he said. "God as my witness, I never beat these women like they're trying to say that I did. I never tortured them."
When Castro finished, Russo dubbed him a "violent sexual predator" and thanked Knight for showing "remarkable restraint" during the hearing.
Wearing eyeglasses and an orange prison uniform, the shackled Castro characterized his crimes in a far gentler light than did the book-length indictment against him: "I'm not a violent person. I simply kept them there so they couldn't leave."
Testimony from authorities and mental health experts didn't jibe with Castro's recollection, however. Police recalled how the women were forced to play Russian roulette and how Castro would throw money at them after raping them.
Detective David Jacobs of the Cuyahoga County Sheriff's Office testified he'd also show a gun "to the girls as a form of control."
It was all to "purely satisfy his sexual needs," Jacobs said. " 'I knew what I did was wrong.' He said that more than once."
Castro's 1,400-square-foot home was reconfigured to keep the women's whereabouts a secret, FBI agent Andrew Burke testified. The back door was outfitted with an alarm; bedspreads and curtains obscured parts of the home; and a porch swing was placed in front of the stairs leading to the rooms where Castro held the women and girl hostage.
In the room where Berry and her daughter were held, the doorknob was removed, a lock was affixed to the outside and a hole was cut through the door for ventilation because the windows had been boarded up from the inside, Burke said.
Burke also described a handwritten letter in which Castro claimed he had been sexually abused as a child and wrote, "I am a sexual predator."
'You saved us!'
The first police officer on the scene, Barbara Johnson, recalled for the court how she and another officer heard the pitter-patter of footsteps in a dark room where Knight and DeJesus were held.
When the captive women realized they were police, Knight "literally launched herself" onto an officer, "legs, arms, just choking him. She just kept repeating, 'You saved us! You saved us!' " Johnson said.
Multiple officers testified that Castro appeared to show no remorse for his crimes, and prosecutor Anna Faraglia said he "tormented" his victims by allowing them to watch vigils held in their honor, and he even attended some.
Castro would talk to his victims' parents as if he were distraught by their disappearances when "they were right underneath his roof," Faraglia said.
'Thank you, victims'
In addition to Russo's guarantee that he "will never be released from incarceration during the period of his remaining natural life for any reason," Castro was also hit with a forfeiture of property and fined $100,000.
As the judge sentenced him, Castro took issue with the aggravated murder charge related to the termination of his victims' pregnancies, saying there was no evidence those incidents occurred. Russo reminded him that he had already pleaded guilty, and Castro said he did so only to save his victims further trauma.