Another night of unrest in Egypt
Protesters, security forces clash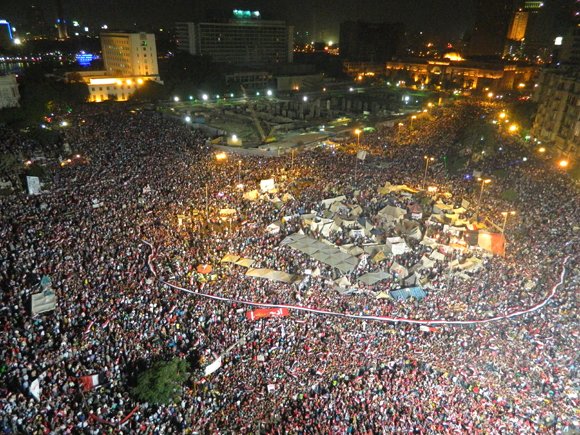 Secretary of State John Kerry asked Burns to discuss with Egyptian leaders "the importance of avoiding violence and helping to facilitate a peaceful and inclusive political process," a release said.
Burns was in Egypt in mid-July visiting with interim government leaders.
The United States is concerned by reports that government critics in Egypt are being denied the right to peaceful protest, State Department deputy spokeswoman Marie Harf said Thursday.
"It's essential that the security forces in the interim government respect the right of peaceful protest, including the ongoing sit-in demonstrations," she said.
But Kerry's remarks Thursday in an interview with CNN's Pakistan affiliate, GEO TV, angered some Morsy supporters.
Asked why the United States is "not taking a clear position" on Morsy being deposed, Kerry replied, "The military was asked to intervene by millions and millions of people, all of whom were afraid of a descendance into chaos, into violence.
"And the military did not take over, to the best of our judgment so — so far. To run the country, there's a civilian government," he said. "In effect, they were restoring democracy."
Muslim Brotherhood spokesman Gehad El-Haddad denounced Kerry's words and accused the Obama administration of being "complicit in the military coup."
"Is it the job of the army to restore democracy?" he asked.
He then asked whether Kerry would accept the removal of the U.S. government by the military if large protests took place there.
"Such rhetoric is very alarming. The American people should stand against an administration that is corrupting their values in supporting tyranny and dictatorship," he said.
A visiting African Union delegation went to the Rabaa al-Adawiya sit-in Thursday night.
Earlier, the group Human Rights Watch urged the government to order a halt to any immediate plans to break up the Muslim Brotherhood sit-ins by force and "deal peacefully with any problems arising."
"To avoid another bloodbath, Egypt's civilian rulers need to ensure the ongoing right of protesters to assemble peacefully, and seek alternatives to a forcible dispersal of the crowds," said Nadim Houry, deputy Middle East director at Human Rights Watch.
Houry warned that the number of protesters packed together in the squares means "hundreds of lives could be lost if the sit-in is forcibly dispersed."
The warning from Human Rights Watch echoed one issued by fellow rights group Amnesty International that warned any attempt by the government to break up the sit-ins was a "recipe for a bloodbath."
CNN's Schams Elwazer and Laura Spark-Smith contributed to this report.
Arwa Damon and Hamdi Alkhshali | CNN